Anyone who lives in the Mississippi or Ohio River Valleys knows that things haven't been going so well lately in the rain department. Flooding near the confluence (place where rivers meet) of the Mississippi and Ohio Rivers has been especially bad. The Army Corps of Engineers is about to make a decision regarding the blasting of a hole in a levee near Cairo, IL to alleviate the danger posed to the town by rising floodwaters. Elsewhere, Flash Flood Warnings have been posted for portions of West Tennessee west of the Jackson area and portions of East Arkansas due to heavy rains that could accumulate to over three inches before this evening is through.
Back here in Louisville, rain is ramping up yet again after what seems like relentless weeks of rainfall and river flooding. Here are some of the rainfall totals for the 24 hour period ending 7am this morning around Kentuckiana: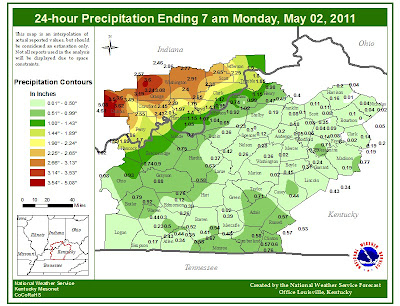 The radar to the west is full again this afternoon and this complex of heavy rain is slowly drifting to the northeast. We could pick up 1-2" of rain locally in Louisville this evening, and the HPC's QPF forecast seems to line up well on that front:
Things should dry out considerably well on Wednesday and Thursday, but more rain could be back in the picture for the Ohio and Mississippi River valleys by the weekend.
We're only 5 days away from the start of my yearly storm chasing trip in Amarillo, TX with
Storm Chasing Adventure Tours
! Be sure to friend me on
Facebook
, follow me on
Twitter
, and keep up with this blog for the latest updates while I'm on the road in the Great Plains. The GFS computer model is hinting at a decent trough swinging through the Plains around the 10th, which could trigger some severe weather conditions for our chase. It's too early to determine any specifics, but it's at least looking like the period of fairly calm weather out there this week should come to an end at least temporarily.