Our prospects for storm chasing this afternoon in Southern Kansas are not as good as previously thought. A line of storms that formed last night in the Texas Panhandle is drifting through west Kansas and Oklahoma right now. This is never a good thing because those morning storms can easily inhibit instability and make the potential for discreet super cells lower. BUT, once these storms depart the area and we get the sunshine back we'll begin to rebuild the atmospheric potential for severe weather this afternoon. The sooner the storms leave, the better things will be this afternoon. Because of these developments, the Storm Prediction Center has downgraded their Moderate Risk from last night to a Slight Risk this morning.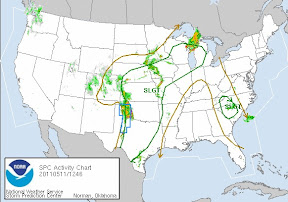 We'll see how it all goes today. East surface winds, a dryline push, and good wind speeds at 500mb (but a bit too southerly for comfort) are all in our favor for today despite the morning storms. I'm confident that severe weather will happen today in Kansas/Oklahoma, but the setup has become much more complex and the potential for good discreet supercells has decreased.
Storms will most likely start after 2pm CDT this afternoon.
Be sure to follow me on Facebook and Twitter for the latest updates!