The SPC issued a new 4-8 day severe weather outlook today that has risk areas in Texas, Oklahoma, and Kansas highlighted for Sunday through Tuesday of next week. More severe weather is possible after Tuesday as well in Texas and Oklahoma near the dryline:
The behind-the-scenes look at these risks indicates quite a pattern coming up for the Plains after what was a fairly quiet start to the tornado season out there. There were some twisters in Texas last week, but they were obviously overshadowed by the huge tornado outbreak that devastated the South. By Sunday of next week, a large trough of low pressure will be onshore in the Northwest US, creating southwest flow aloft for much of the great plains. Large-scale divergence aloft (the separation or diffluence of those wind contours in the Plains on the 500mb chart below) will cause quite a bit of instability over the areas that they affect: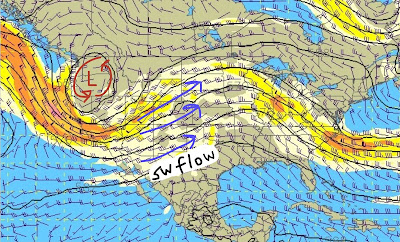 Where you have a dryline or other boundary pushing to the east and proper moisture with good east/southeast ahead of it, that's where you'll have the greatest risk for severe storm and tornado development. This trough is going to move very slowly as it travels through the nation's midsection, so severe weather will be possible from Sunday through Wednesday in the Plains. After a lull on Thursday, another trough could make a run for the Plains again by next weekend. I find it very lucky that I'll be making my way out to Tornado Alley just as this storm season begins to pick up out there.
Since it looks like
Storm Chasing Adventure Tours
is going to be hitting the ground running on Sunday, be sure to have this blog in your bookmarks.
Don't forget to follow me on Facebookand Twitter
for up-to-the-minute updates on our chase!