We're ready for storms today after a long drive back south from Detroit Lakes, MN yesterday. We started the day in Oacoma, SD and are headed westward to catch a southern route near Murdo, SD. We expect to keep heading south through Nebraska until we see a good spot where winds and cloud formation become conducive for supercell development. That area could be as far south as Goodland, Kansas. West-southwest flow at 500 mb and moisture surging northward will create the instability needed for this afternoon, while east-southeast winds will contribute to the low-level shear necessary for rotating storms. The one issue we're dealing with this morning is cloud cover across much of Nebraska and portions of Kansas. It should burn off/move out in time for storm development, but if it doesn't we may have an "event failure" (AKA no storms). Check out the satellite image below and you'll see what I mean:
The Storm Prediction Center has issued a Slight Risk for severe weather this afternoon and tacked on a 5% tornado risk as well.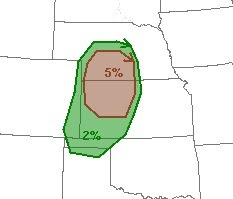 As we keep an eye to the sky this afternoon I'll be posting frequent updates on Twitter and Facebook. Be sure to follow me on those sites for the latest reports!